About SSL247® – The Web Security Consultants
With over 10 years of web security experience operating across 14 different markets, we at SSL247® have learnt a thing or two about the industry. It's not enough to just supply the products. Because online security means so much to your business and reputation, genuine support and service is invaluable. Using our expertise and emphasis on support we offer all our clients bespoke recommendations. Every business is different and, just like a fine suit, your web security does require significant tailoring to give you the perfect fit.
With us, you're provided your very own account manager, available on a direct line and quick to respond to emails, whether it's an order enquiry or just troubleshooting. Equal energy is put into new and existing clients because we're in the business of keeping you protected, not just providing the products you use to do so.
We've reached several important milestones in order to provide our customers this winning combination of the best products and the best service including:
Earning platinum partnerships with the five stock-exchange listed SSL Certificate Authorities: SYMANTEC, Thawte, GeoTrust, GlobalSign, Comodo and RapidSSL
Receiving a 100% pass rate for the SSE/SSE+ accreditations
Becoming one of only 6 European companies recognised by Symantec as a Website Security Solutions Partner
Becoming a "2015 Deloitte Technology Fast 500 EMEA winner" , formally recognising us one of the fastest growing technology companies in Europe, the Middle East and Africa (EMEA).
Winning the "2015 Symantec Sales EMEA Sales Growth Award" – a testament to the number of clients satisfied by SSL247®
Winning the award for the "EMEA Symantec Champion 2014" which defines our status as the largest and most dedicated partner in Europe
Building a personalised, secure and clutter-free management portal, MySSL®, to keep all your services in place: your SSL certificates, Digital IDs & Signing and Penetration Testing services.
---
The SSL247® Vision: A Secure Digital World
Cybercrime is everywhere. The speed at which the internet is growing is only matched by the threats that come with it. Theft of data, malware, cyber-squatting, phishing and counterfeiting electronic documents is relentless. That's why we provide a countermeasure for all these dangers. Keeping on top of your security with SSL247® is effortless – we offer all the tools in one, easily manageable place. With dedicated support to top it all off.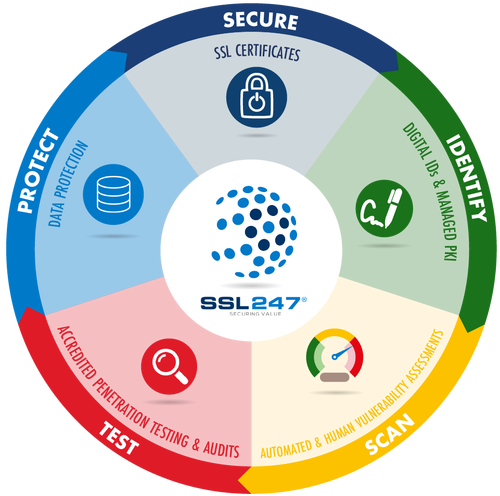 Find out more about our services:
But don't just take our word for it. Here it is from Symantec: Symantec's Partner Snapshot. This isn't produced for just any company. This requires an expert relationship with Symantec, the biggest name in online security, and they demand quality. But it's safe to say we tick all their boxes… and then some.
---
We'd love to hear from you
Get in touch and we'll be happy to discuss your web security and provide the best consultation available. Even though you'll find yourself in the company of over 7,000 satisfied customers we treat your business to the devoted attention it deserves, until you're completely satisfied. Put us to the test today.
+1 855 207 2255

sales@ssl247.com

Suite Q, 2 East Poultry Avenue, London, EC1A 9PT
---
If English isn't your first language, why not click the flags at the top of the page to be redirected to your preferred nation. Our team of dedicated account managers boast a number of languages so nothing's lost in translation.